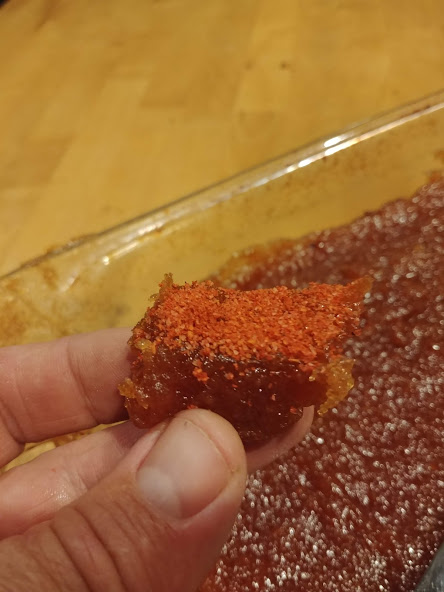 Here's a recipe which I adapted from the FarmToTableLA.com prickly pear candy recipe. The final result tastes a bit like a cross between a fruit rollup and a gumdrop. One of the changes, which was obvious once I'd had a bite, was to add a coating of chili and sugar. You can find chili-lime-salt powder in the candy sections of any of your more reputable carnicerias.
4 cups of deseeded/debutted loquats,
1/3cup lime juice
5 cups sugar
2 cups (one jar) of apple sauce
2 heaping Tablespoons of pectin
spicy chili powder
As you remove the pits and the butts from the loquats, coat them in a mixture of the sugar and lime juice. This will keep the fruit from oxidizing and turning an unsightly brown.
Blend the loquats until they look almost like apple-sauce. Mix them with the remaining sugar, the apple sauce, and the pectin.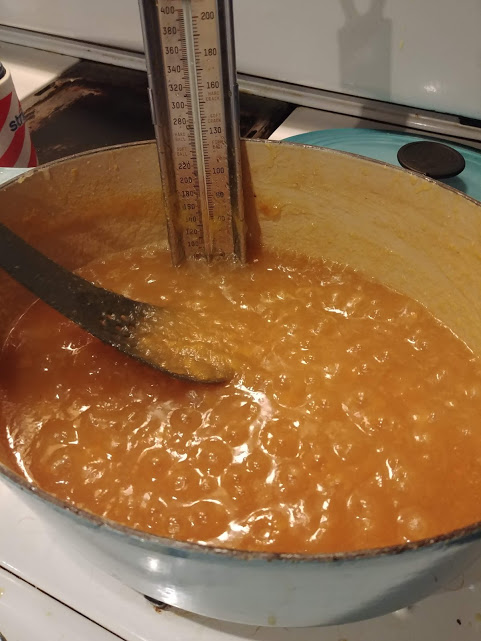 Cook the mixture slowly on the stove while stirring constantly. You want to get it up to about 225 degrees, basically you're going to cook out all the moisture. It should reduce by about three quarters. So you're looking at a lot of stirring. On the plus side, the extended stewing will completely dissolve those annoying scraps of loquat skin. If you keep the mixture moving, it will prevent a lot of the bubble-splutter which could scald you or stick loquat pulp all over your kitchen.
When it's done, it'll look and feel thick, almost like toffee. Pour it in a shallow pan and leave it in the fridge overnight. Drying a bit will do it good. In the morning, cut it into squares and dredge them in a mixture of sugar and spicy chili powder.